EMCR Speaker Series: Toward a Resilient Urban Forest with Dr. Vivek Shandas 05/06
The urban forest provides myriad benefits for improving the health and well-being of residents. Yet, a rapidly warming planet poses acute challenges for maintaining existing tree canopy due the localized amplification of temperatures by specific characteristics of the built environment. Complicating matters further is the public perceptions of trees as green infrastructure, and the extent to which urban forests support efforts to improve regional resilience to climate change. This presentation will draw on the past decade of empirical research on Portland's urban forest by examining its role in creating regional resilience, distributional inequities, and known threats that require collaborative actions.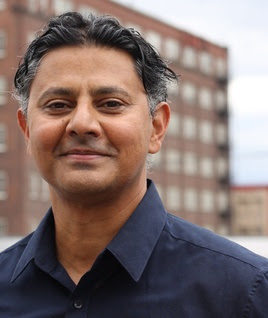 Dr. Vivek Shandas is a Professor in the Toulan School of Urban Studies and Planning, and the Founding director of the Sustaining Urban Places Research (SUPR) Lab at Portland State University. Professor Shandas studies the effects of urban development patterns and processes on ecosystems and social justice. By examining the assumptions about our built environment, Professor Shandas centers historically marginalized communities in assessing adaptation strategies from climate-induced stressors such as urban heat, air quality, and pluvial flooding.
Upcoming "Toward Resilient Futures" Events:
June 10th at 12 pm "Building Resilient and Egalitarian Cities After Mega-Disasters: Lessons from Manilla" with Jola Ajibade, PSU, Geography Department and "Resilience: An Evaluation Thinking Perspective" with Eric Einspruch, OHSU-PSU School of Public Health
September 30th at 12 pm "Resilient Water Governance" with Alida Cantor, PSU Geography Department, and "Flood Resilience in the Anthropocene" with Heejun Chang, PSU Geography Department